Notice
The following plans include CSV file import for adding team members:
| Plan | CSV File Import |
| --- | --- |
| Green |   |
| Business |   |
| Business+ | ✓ |
| Acc Starter |   |
| Acc Advanced | ✓ |
| EVOLV | ✓ |
To import employees using CSV, download the template from the bottom of this article and fill it in using the file specifications below.
*It is critical that you follow the specification for the file. Failure to do so will result in a failed import. If you would like one of our specialists to review your file for potential errors, we offer this as an add-on service. Let us know if you would like to know more.
Ready To Import
If you have not already done so, please contact us to activate this feature on your account.
Login to your account and go to Employees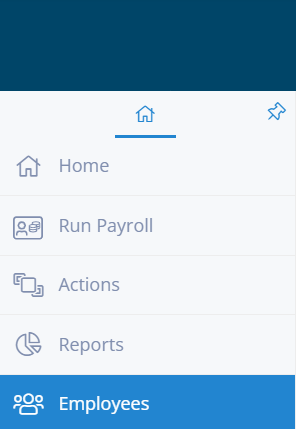 Click Import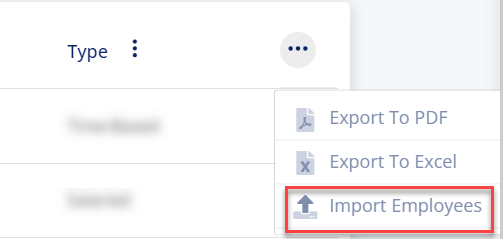 You will receive confirmation of the upload or any issues encountered on screen.
Specifications
 
Name
Field size
Description
Mandatory?
1
EmployeeNumber
15
Custom employee number (optional). System generated if left blank.
N
2
FirstName
30
Employee first name
Y
3
LastName
30
Employee last name
Y
4
MiddleName
30
Employee middle name
N
5
SIN
9
Validated SIN number - Numeric type
Y
6
DOB
 
Date of Birth, format dd/mm/yyyy (must include "/")
Y
7
DOH
 
Date of Hire, format dd/mm/yyyy (must include "/")
Y
8
PayRate
 
Amount based on PayRateUnit, numeric only
Y
9
PayRateUnit
1
Y = Yearly
H = Hourly
M = Monthly
W = Weekly
Y
10
PaysPerYear
2
52 - Weekly
26 – Bi-Weekly
12 – Monthly
04 – Quarterly
01 – Yearly
24 - Semi-monthly
22 - 22 Pays a year
13 - 13 Pays a year
10 - 10 Pays a year
Defaults to company default PaysPerYear
N
11
TD1
 
Personal exemption amount, Federal
(defaults to base exemption), numeric
N
12
TDP
 
Personal exemption amount, Provincial  (defaults to base exemption), numeric
N
13
Add1
25
Address line 1
Y
14
Add2
25
Address line 2
N
15
City
25
City
Y
16
Province
2
AB = Alberta
BC = British Columbia
MB = Manitoba
NB = New Brunswick
NL = Newfoundland and Labrador
NS = Nova Scotia<
NT = Northwest Territories
NU = Nunavut
ON = Ontario
PE = Prince Edward Island
QC = Quebec
SK = Saskatchewan
YT = Yukon
Y
17
Postal
6
Postal code (A1A1A1 format, no space)
N
18
GLAccount
8
Cost account for employee earnings, Numeric
N
19
Phone
10
Contact number, Numeric
N
20
Title
30
Job title within company
N
21
Email
60
Email address
N
22
EmployeeType
1
P = Permanent (default)
S = Subcontractor
T = Temporary
N
23
SalaryType
1
S = Salaried employee
L = Timesheet employee
Y
24
Password
6
Employee password for PayChequer.com access
N
25
Institution
3
For direct deposit - institution number
N
26
Branch
5
for direct deposit - branch. Must be 5 digits
N
27
AccountNumber
12
For direct deposit. Max 12 digits. Canadian banks supported only.
N
28
YTD:RegularEarnings
 
Year to date earnings (numeric)
N
29
YTD:FederalTax
 
Year to date federal tax (numeric)
N
30
YTD:ProvincialTax
 
Year to date provincial tax (numeric). Use for Quebec only - other taxes should go into Federal Tax (column 29 YTD:FederalTax)
N
31
YTD:EI
 
Year to date employment insurance (employee portion) - numeric
N
32
YTD:CPP
 
Year to date Canada Pension Plan contributions (employee portion) - numeric
N
If you have custom earnings codes that you need to add the YTD for- go to COMPANY SETTINGS>PAY RULES>EARNINGS.  There is a 2-digit number next to your earnings name, this is the YTD:DIGITCODE you would use on the CSV in a new column.
For Example, YTD for Support from the picture below you would create a column with the header YTD:20
Notes
Please note, while Microsoft Excel does work with CSVs, we suggest using a true CSV editor to edit/create your CSV files. Excel has a tendency to change the format on the user, which will result in a failed import.  There are many free CSV editors available online.
After Importing
Edit any other employee details as needed.   You may need to edit fields under Payroll Details and Rules, Benefits and Deductions.
 You can download a sample CSV file below