Record of Employment
Tip
The updated employee management experience automates the creation and submission of Records of Employment. Please see the instructions for the updated experiece.
Please note that Service Canada has phased out the Laser ROE program (printing and mailing a ROE). You should consider submitting your Records of Employment electronically. Your payroll account provides a simple way for you to do this all online.
*EI exempt employees do not get ROEs
Before you terminate an employee, you should pay out any accrued vacation amounts- if you are unsure how to do that, please review the article HERE 
 To terminate an employee, login to your account and navigate to EMPLOYEES and click the terminate icon  beside the employee you wish to generate the ROE for.

 You may receive notifications of vacation pay owing (if any) or if there is a pay run in process this employee will not be included.  You can continue with the ROE or X out and complete any final actions.
*An employee going on leave can keep their accrued vacation in their bank.  It is ok to terminate with accrued vacation. 
Select: Reason for Leaving and Termination date and click TERMINATE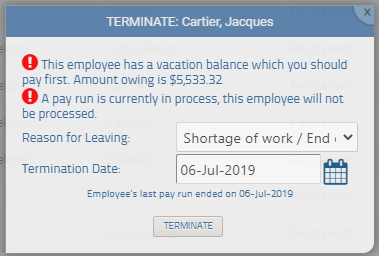 You will be prompted to view the ROE
Select YES, to view/modify the ROE 

 

If you select NO you can come back to it later by clicking on Pay History in the Terminated Employees list from the EMPLOYEE area: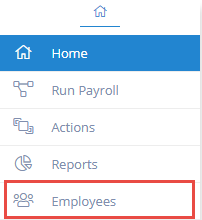 If you need to make any adjustments, make sure you follow the Service Canada guide on manipulating the individual fields.
Pro-Tip: 
If you paid out vacation on final pay, add the amount to block 17A and change the Vacation Pay Type in item 16.
If you are paying your employees Monthly/Semi monthly and you have Non Standard dates e.g. Jan 16 to Feb 15th then you can change the pay period type to Non standard in Box 6
After you make any adjustments and click Validate and Save. The system will generate the files needed (.BLK format) for electronic submission on the Service Canada website: 
 

The DOWNLOAD button will now allow you to locally download the electronic file. You can now follow the instructions on the Service Canada website to securely submit the Record of Employment (a detailed walk-through of the process is posted at http://www.servicecanada.gc.ca/eng/services/ei/employers/roe/resources/payroll_extract.shtml
NOTE:  

The file extension should be .BLK only - certain browsers may add .XML and this will need to be removed before you can upload to the Service Canada website.

Service Canada will assign a serial number to the file upon upload, we are not able to do this for you.

PRINT will allow you to print a local copy (but remember this print out is only for your own use and cannot be used for submission to Service Canada)
Submitting the ROE online to Service Canada
To submit your file to Service Canada, go to their ROE website and Sign-in to ROE Web with your Service Canada credentials. If you do not have them, you can apply to receive them for your business.
At the main menu for ROE Web, select ROE Payroll Extract File:
Follow the onscreen instructions to upload and make your declaration:
Your file will now be transferred and processed:
You can check the status of your file by selecting VIEW:
Once accepted, you'll be able to see the submission online and your former employee will be able to apply for Service Canada programs.