The RL-1 summary asks for a lot of information.  This guide will help you gather the information you will need.
If you need to know how to complete your T4, T4A or RL-1 forms (minus the summary) please go HERE
To complete your RL-1 Company summary you will need your Statement of Account from RQ:
You should receive a RL2-1.S.V in December from Revenu QC.  It will not include November and December remitted amounts, so please keep this paper and fill in missing amounts once you have all amounts remitted by your remittance due date in Jan.  We recommend you do this early if possible.
If you don't receive this in the mail you can find in your Revenue QC account under "View Statement of Account/ View Payments"
Now here's how to fill the summary out: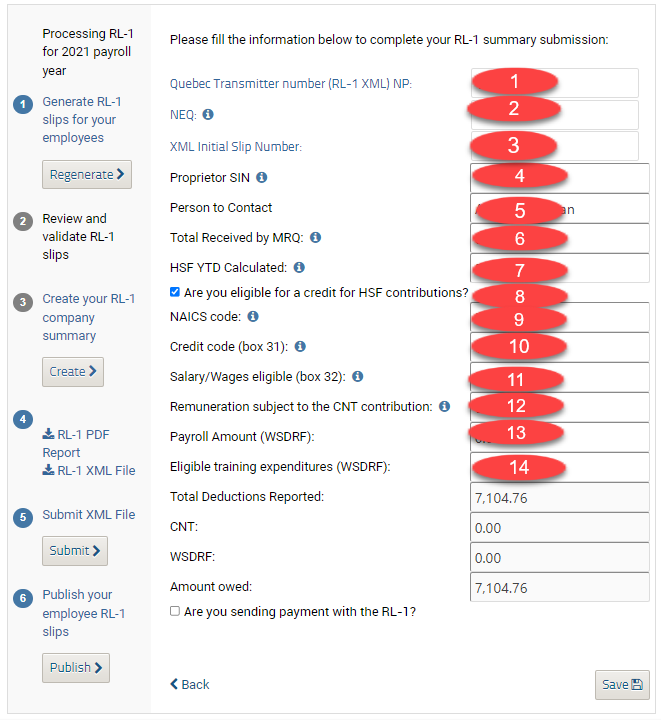 Quebec Transmitter number- this is given to you by RQ to be able to file your XML slips electronically. *Note this could also be your accountant's Transmitter Number if they are filing on your behalf.  
NEQ- This is your QC business number. If you don't have one you can register for one HERE
XML Initial Slip Number- this is provided to you by RQ.  If you do not have it, please contact them directly.  *Hint- You reuse the same numbers each year as long as the quantity is sufficient
Proprietor SIN- some corps require this, please click on the "i" to see if you are required to enter this or what to enter if not.
Person to Contact- we will pre-fill this based on your company settings.  You can edit if you need to. 
Total Received by MRQ- this is the total amount from the RL2-1.S.V from the beginning.  This is the total amount RQ reports receiving from you.
HSF YTD Calculated- We prefill this amount based on what you should have paid according to your total RL-1 employee slips.  If your annual payroll is between $1million and $5 million (or over $5 million) your rate will have varied from what you paid during the year.  You will have an amount owing.  It will be included in the Amount Owed line.
Are you eligible for a credit for the HSF contributions? - Some employers who paid furloughed employees or participated in large investment projects may be eligible for a credit on their HSF (to be determined by MRQ).  To see if you are eligible, please see HERE.
Enter your NAICS code.
If you are eligible for an HSF credit enter the claim code you got from the link in step 8. **If your claim code is 06 or 00 be sure to include the documents requested with your RL-1 Summary.
Enter the salaries and wages eligible for the HSF credit you got from the link in step 8.
Remuneration subject to CNT contribution- Use this form HERE to get this number.
Payroll Amount (WSDRF)- The basic guide is HERE.  Only enter an amount here if your total payroll is over $2 million.  If it is under $2 million enter 0.00.
Eligible training expenditures (WSDRF)- If you have kept good records of your training expenses you can deduct them from the WSDRF amount owed.  Only enter an amount here if you also entered an amount other than 0.00 in Step 7.  Please use the guide HERE to see what you can include.  Add them up and enter the number here.  You can also carry forward unused amounts per the instructions in this guide.
That's it, make sure you hit the TAB key and we will pre-populate totaled/calculated amounts.  
*NOTE RQ requires payment on amounts owing for HSF, CNT and WSDRF by your RL-1 filing deadline.  But any other tax amounts owed are due with your December remittance.  So, please fill in your RL-1 forms right away and send payment to RQ to avoid late penalties.  You will need to make any payments on amounts owing manually.
**If you are having trouble submitting your XML file please check your Quebec Business Number in your company settings under OPTIONAL FIELDS.  This is your source deductions (RS) identification number, not your NEQ number.
*This guide may be subject to change without notice