Pay Explorer (dynamic) Report

The dynamic reports feature is a powerful way to examine your payroll data and view your data for additional analysis. To access Dynamic Reports, go to the REPORTS section and select Pay Explorer under the HX section.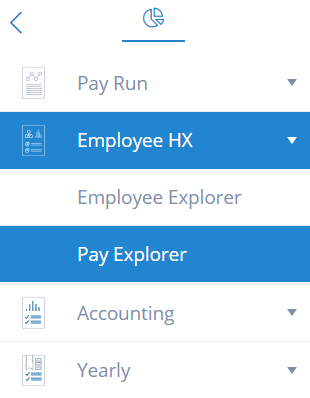 From here you'll see several ways you can search for specific data within your company payroll history. The search box presents a few different options:



Payroll Year – Select the payroll year you want to search in
*Hint - each payroll year is its own database, so if you need a combination, run a report for each year in the timeframe you need and combine them in XLS
Report Type – There are 5 report types to choose from
General is used to for most reports showing the most commonly used fields for reporting
Vacation shows details specific to vacation amounts earned, paid and owing to staff 
Insurable Earnings provides the details necessary to determine the insurable earnings for each staff member (also useful when determining your company burden for provincial worker's compensation boards and insurance schemes)
Custom gives you the option to show any criteria in your payroll including custom rules you may have created for your employee pay runs
Emergency Wage Subsidy (CEWS) is available to all paid plans and provides breakdowns to apply for CEWS through CRA for specific periods
Pays Between – Select the dates you wish to search for a range, choosing between Start/end dates or Pay Dates
*Hint – Use start/end dates if you are looking for ONE pay period.  Use Pay Dates to search a range of payrolls that fall within a period.
Employee Search – Enter a name or employee ID number to search for a specific employee
Employee Type - use this to filter permanent staff, temporary employees or contractors
Employee Status – active, all or terminated staff
*Hint – this defaults to Active so you may need to switch to All if searching in a period that includes staff that are now terminated
Pays Per Year – If you have multiple pay frequencies that you use you can filter to see just one group
Salary Type - search for time-based vs. salaried staff
Cost Account - show only the amounts associated with the specified general ledger codes set up in your employees' profiles
Show Company Portions – Use this option to show company portions by employee for any taxes the company pays
Search results
The search results are shown onscreen where you can further filter and manipulate the results. For example, you can group the results by dragging a column header to the (Blue line) sort area at the top of the results table.



You can group multiple columns in the same view (for example, group by employee and then by payment date). 
Each group will then show you a subtotal for that group:




Use the arrow beside the group subtotal to expand and see the line item details.



While the onscreen view is good for interactive data searching, you can also export the data for further analysis or sharing. Use the export icons to select the format you wish to save the data in.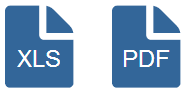 XLS - export in Microsoft Excel format
PDF - export in portable document format (PDF)