Adding an Employee

Before you can start your first payroll, you'll need to add your employees. If you've already added employees and are looking for how to edit them, please skip to Editing an Employee
To get started with adding an employee, follow these steps: 
Login to your Payroll account. If this is the first time you've accessed your account after registering, you'll be prompted to add your first employee:
 
If you skipped that step or are looking to add another employee to your profile, click on the EMPLOYEES section in the main menu and then "+Add Employee":
 
*If you have a plan type with CSV upload capability you will also see an Import option
 
**to find out how to add this to your plan please Contact Us to learn about upgrade options
***CSV instructions can be found HERE
 
Now you can add the details for your employee. On the "personal information" tab, enter the employee's name and other details. Ensure you record the correct Social Insurance Number (SIN) for the employee for tax reporting purposes. Assign a personal email to the employee, rather than a company one, so they can view their pay history online at PayChequer.com.  They will be auto-invited if you add their email when you set them up. 

On the "Payroll Details and Rules" tab, enter;

 Province of Employment- If you are unsure which Province of Employment to set your employee to please see HERE *Note this may be different from where the employee lives.
Whether the employee is salaried or time-based
the wage information for the individual (pay rate, pay rate unit, pays per year and standard hours per week)
 Any vacation amounts owing to the employee and automatic vacation accrual or release
The employee should have provided you a completed TD1 form. Enter those figures under Tax Details as dollar amounts if they differ from the basic personal amounts
Assign the employee a GL Account Code to group your employee wages by department if you wish


Add any benefits/deductions you will be applying to your employee's payments under the Benefits/Deductions tabs.  For more details on custom benefits/deductions see HERE
If you are migrating your payroll from another system or converting from manual calculations, go to the "financial YTD" tab to enter the historical information for the employee. This is important to ensure the correct deductions are made for the employee: 
Pro-Tip: If your previous provider did not break out Federal and Provincial Taxes please enter all data in Federal Tax box.  
Pro-Tip: Consider having your previous payroll system send in an interim ROE for "changing payroll providers" to keep their EI history current with Service Canada.
Pro-Tip: Once you have entered YTD information for all of your employees go to REPORTS>YTD SUMMARY.  Click to Create New Report, this will create an audit log of the data you have entered for easy reference if there are any questions in the future.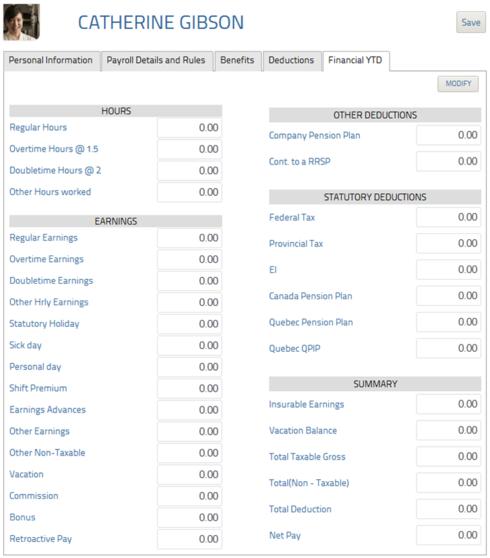 After you've completed entering these details, click SAVE.
Next Steps
Now that you've added your employees, you can move on to the final step of the step up process: add-ons and integrations. If you are using a timekeeping or accounting program such as Quickbooks, Xero, Sage, Kashoo or Freshbooks, please see our Add-Ons guide to connect your account. 
*If you do not have an accounting program to integrate then you are now ready to run payroll or return to our Easy Getting Started Guide.
Editing an Employee
To edit an employee, follow these steps;
1. Go to Employees.




2. On the line for the employee you would like to edit, click Edit Profile.


3. Select any of the tabs to make changes and click Save.